NIH CIO-CS
NIH CIO-CS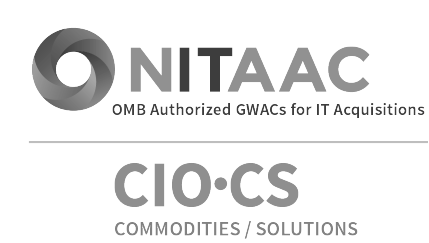 Program Description
CIO-CS (Chief Information Officer - Commodities and Solutions) is NIH's next generation IT commodities and commodity enabling solutions GWAC. As an OMB authorized GWAC, the CIO-CS contracts are utilized by all Federal Agencies. The Government Program Office is NITAAC (NIH's Information Technology Acquisition and Assessment Center).
Scope
IT products, IT commodities, hardware, software, solutions, cloud services and future technologies, offered both in On-Premise and Managed Services models
Contract Website Link
https://nitaac.nih.gov/nitaac/contracts/cio-cs
Program Office Contact
NITAACsupport@nih.gov
Contractor Description
FedStore is one of multiple Contract Holders on NIH's CIO-CS next generation IT commodities and commodity enabling solutions GWAC.
Contract Number
HHSN316201500033W
Current Expiration Date
Wednesday, April 30, 2025
Maximun Expiration Date with Options
Wednesday, April 30, 2025
Authorized Buyers
All Federal Agencies
FedStore Points of Contact - PMO, Sales, Order Problems, Customer Support
For questions about quotes, program-related matters, contract-related matters, order status or post-delivery matters please contact:
Jackie Mayo
FedStore CIO-CS Program Manager
Phone: 571-446-3620
Mobile: 703-401-2002
jmayo@fedstore.com
Processing Fees
.35% of order amount. Fee cap for all orders under the CIO-CS GWAC in the amount of $70,000. The fee cap applies to any order base or optional period (not to exceed 12 months) with funding in excess of $20 million.
Featured OEMs
Cisco, HP, Dell, NetApp, DellEMC, VMware, IBM
What FedStore Brings
Key Fundamentals
Knowledge
Agency Projects and Initiatives
Trained Sales and Engineering Talent
Product Expertise
In depth knowledge of procurement processes and the FAR
Strategic Solution Provisioning 
Experience
Seasoned Leadership and Sales Teams
Delivering Product Solutions Since 2001
Proven Track Record of Success
Broad Range of Past Performance References
Value
Strong Partnerships with Industry Leaders
Quick, Accurate Quoting and Order Fulfillment
Financial Strength
ISO 9001:2015 Certification
Prompt Payment Terms
The Government will make payment in accordance with the Prompt Payment Act (31 U.S.C. 3903) and prompt payment regulations at 5 CFR Part 1315.